Style: Flexible Squares
Website: Not Needed
Default Icon: Hidden on Sidebar, visible with Entries.
Best view: Should be fine with all resolutions.
Browser(s) Compatible: IE 7 and Fire Fox 2.0.0.3. Not tested elsewhere.
Credit: CDesigns & The Inspiration Gallery for background and images.
Work with Nav bar?: No.

Preview: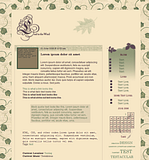 Live Preview
Layout is being used here.
I would like to thank:
babyelephant for explaining to me how to clean it up a bit for public use and
everything_lj for being full of awesomes,
irinafan for the flexi squares CSS step by step breakdown and
s2flexisquares for posting it.

This is one of the very first s2 layouts I have ever worked on, bound to have made mistakes. If you find them please don't hesitate to point it out to me, as I'm trying my best to learn as I go.

Edit: The standard user nav has been hidden. As in: User Info, Friend's Page, etc. If you want these, you will need to edit them into your Link List or blurb/free text box manually.



Image(s):
Header: http://img359.imageshack.us/img359/4809/liwheaderpv3.jpg
Body Background: http://img384.imageshack.us/img384/4267/wpivy033il0.gif
Subject background: http://img384.imageshack.us/img384/7388/datesub1dv0.jpg
Side bar Background: http://img388.imageshack.us/img388/8917/sidebckox5.jpg
Links on image: http://img385.imageshack.us/img385/4594/on2nk0.jpg
Links off image: http://img359.imageshack.us/img359/4699/off2tj9.jpg
Divider: http://img451.imageshack.us/img451/7043/entdivyn6.jpg

Overrides:


GO TO JOURNAL

SELECT CUSTOMIZE JOURNAL

CLICK IT!

SET JOURNAL TO S2

SELECT FLEXIBLE SQUARES FROM LOOK AND FEEL

SELECT (NONE) FOR THEME (BELOW LAYOUT & LANGUAGE)

SAVE CHANGES!

FIND "CUSTOM CSS" LINK

FIND "Use layout's stylesheet(s)" SET TO NO

FIND "Use layout's stylesheet(s) when including custom external stylesheet" SET TO NO

FIND "Use external stylesheets" SET TO NO

COPY AND PASTE YOUR CSS IN THE CUSTOM STYLESHEET BLANK BOX PROVIDED.

SAVE CHANGES!

THAT'S IT, YOU'RE DONE AND YOU'RE FULL OF WIN :P